The Triangle Tuba Quartet (TTQ) was founded in 1998 when several of us heard our first tuba quartet at the US Army Band Tuba-Euphonium Conference and decided to form a local group. The TTQ consists of two Euphoniums (sometimes called Baritone Horns), and two tubas (usually a small Eb tuba and a larger BBb tuba). This unique instrumentation delivers a rich sound that simply needs to be enjoyed in person to appreciate. We enjoy performing a variety of musical styles, from arrangements of classical Bach, Mozart, and Haydn pieces to modern American music, marches and Jazz. The TTQ currently plays in a variety of Triangle settings, including banquets, music festivals, church services, nursing homes, and weddings.
Our Bio's
Jack Denniston plays tuba, trombone and euphonium. He studied with William Bell at the University of Indiana. Jack also plays in the Old North State Brass Choir, Brassissimo! Brass Quintet, the Salvation Army Red Kettle Band, the Duke Pep Band and various Dixieland and Polka bands. Jack is an ICF contractor at the U.S. Children's Bureau, Division of Program Innovation. He lives in Chapel Hill with his wife Lorry.
Irv Eisen began playing the tuba in junior high school, continued through high school and received a Bachelor's Degree in Music from the University of Missouri at St. Louis. In the late 1960's early 1970's he studied with the principal tuba players in the St. Louis and New Orleans symphonies. He played for a while in a club on Bourbon St. and later freelanced in St. Louis. Recently retired as a computer systems manager for Duke University, Irv plays with the the TTQ and the Decatur Street Beat dixieland band.
In 1998, after almost 18 years of withdrawal, Paul Gramann, kicked off his mid-life crisis by buying a sporty euphonium. He currently enjoys tooting his "euph" regularly with the TTQ and his tuba with the Durham Community Concert Band. He plays with various "Red Kettle" bands during the Christmas season and other occasional ensembles that will have him. Paul is married with two grown children and pays the bills with his day job as an engineer at IBM.
Glenn Wilkinson, euphonium, is a mild-mannered IT engineer by day, and an international award winning chamber musician by night. As a graduate of UNC Greensboro, where he studied under Dr. Dennis Askew, Glenn has performed across the United States, Canada, Australia, and Hungry. In addition to performing with the Triangle Tuba Quartet, he is also an active member of the North Carolina Brass Band, and Tubas in the Sun quartet. He is currently employed by MetaMetrics, Inc.
~~~ Emeritus Members ~~~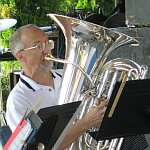 Joe Lowman returned to playing the tuba at age 50 after a 34 year lay off. Now he can't get enough. Over the years he has played in several Triangle brass groups, including the Chapel Hill Village Band, the Chapel Hill Brass Ensemble, the TTQ and the Triangle Wind Ensemble. Joe recently retired as Professor of Psychology at the University of North Carolina at Chapel Hill and now lives in the mountains where he plays in the Watauga Community Band and the High Country Brass plus One.
John Jones has been playing euphonium since the 9th grade, when he was switched from tuba to double belled euphonium in high school. He is a Duke Univ grad who studied with Paul Bryan, the director of the band program during the period John was at Duke. After some years off the horn he came back to the instrument for a few years in the late 1980s, finally returning to full time play in 2003. John recently retired as Director of Campus Merchandising at UNC Chapel Hill where he was responsible for the campus bookstores. Musically, he plays with the North Carolina Wind Orchestra, the Triangle Wind Ensemble and the Old North State Brass, and has performed four solo recitals since 2006.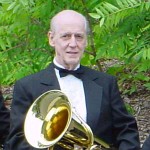 Bob Hale received a scholarship to the Juilliard School of Music, and graduated with a B.S. degree in trombone performance. After freelancing in New York, playing with the Goldman Band and traveling with the Longines Symphonette for two years, he decided that that life was inimical with raising a family. He then got a "day job" with IBM which lasted for 38 years. However, he retained a toe-hold in music, forming the Westchester Brass Quintet in Westchester County just north of New York City, and playing an average of two professional engagements per month with them for a dozen years.